Town Square
In 1990, as a mostly rural Southlake began to "grow up" by adding subdivisions, recreational activities and businesses, developers took notice.
A California group named Rialto (later renamed Cooper and Stebbins) learned of a 130-acre tract in the heart of Southlake, and by March 1996 had bought it and settled in to do something for a community on the verge of wanting more than just a Walmart, McDonald's and Dairy Queen. Company president Brian Stebbins invited residents to a public meeting at the town's Community Center (a donated drive-up bank building moved to Bicentennial Park).
"If we're going to build a downtown, it's up to us to know what you want," he told residents. Accompanying him was the newly hired architect, David M. Schwarz (Bass Hall, The Ballpark in Arlington, American Airlines Center), who stood by with a marker and large pad in hand.
Frank Bliss, then vice president, remembers the crowd wasn't exactly welcoming. "One man said, 'Show me what your plan is.' We said we don't have a plan; it'd be premature until we find out how this fits your community. Finally one guy says, 'OK, look, I think you're lying [that you don't have a plan], but on the off-chance that you're not, when our kids have a prom, they gotta go to Grapevine. We'd like to have a place where our kids can stay in the community.'" Someone else mentioned that a restaurant would be nice.
A second public meeting drew an overflow crowd of homeowner associations in arms and residents crying that a town square would bring crime and their property values would fall.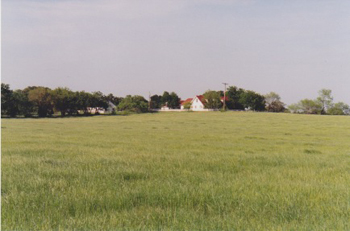 One person who could clearly picture what a downtown could look like was the new mayor, Rick Stacy. "I grew up in Grapevine. Everybody came to town. It was like Mayberry RFD, and that's what I kept picturing," he says. Southlake's downtown had to be a place where the community wanted to go, and that meant more than just shopping. "Get the county involved. Get the post office. More reasons to get people to come [to a downtown]. People needed to have a reason to go there. And they needed to like being there, to just hang around."
And so Town Square – the idea of building a downtown from scratch – was approved and moved forward.
To the dismay of some members of the Southlake Historical Society, the Southlake Fire Department burned down the McPherson-Fechtel farmhouse, built in 1919 and on the Town Square site, as practice for putting out fires. They wanted the house moved to a city park to be preserved and reused.
The first phase opened in 1999. Its centerpiece, Town Hall, became home to city offices previously located in the fire station building on Carroll Avenue, as well as to Southlake's library (residents had been borrowing books from Grapevine). The design of Town Hall was inspired by Texas' historic courthouses.
Town Square is built to look like a turn-of-the-20th-century downtown. Brick and masonry buildings have windowed storefronts below and office space above. The fountain in front of Town Hall was modeled after one that Pamela Muller, a city council member, had seen in Savannah, Ga.
Town Square's second and third phases opened in 2006.
Rustin/Family Park, in front of Town Hall, includes a statue of a man tying a little boy's shoe, placed in honor of Brian Stebbins, who passed away in October 2012. He was eulogized as a passionate, creative and tireless visionary.
LEARN MORE ABOUT THE TOWN SQUARE ARCHITECT
Did you know that Town Square was designed by the same architect who did the Rangers' ballpark in Arlington, downtown Fort Worth and Bass Hall? His name is David M. Schwarz, and a documentary about him called "Street Smarts: Architect David M. Schwarz" aired in March 2015 on KERA. The Southlake Historical Society provided photos of the Fechtel farm, where Town Square is located.
View the show here.