Bonnie and Clyde
On Easter Sunday, April 1, 1934, state Troopers H.D. Murphy, Edward Wheeler and Polk Ivy were patrolling Texas 114 in present-day Southlake. It was Wheeler's second day on duty, and the three had stopped near an open field for some target practice. As they returned to the highway, Ivy rode north toward Roanoke, but Murphy and Wheeler, seeing what appeared to be motorists in trouble, turned up Dove Road.
Ivy had ridden several miles up the highway before he realized his partners had stopped. He retraced the route and found them both lying in Dove Road, dead – pistols still holstered and their murderers gone.
A farmer living nearby who had been sitting on his porch was a witness to the shootings and provided information to help identify the killers.
The troopers had been murdered in cold blood by Clyde Barrow and Bonnie Parker or a member of their gang. (Southlake resident Jack Cook and the farmer who saw the shootings said Bonnie and Clyde were alone; gang member Henry Methvin later said he had participated.) The killers then drove to a house between now-Southlake and Roanoke owned by some of Bonnie's kin, who, according to Jack Cook, "put the children in the cellar" and made the outlaws a sandwich before the killers fled.
The next month, Bonnie and Clyde and other gang members were themselves killed by police in Louisiana, and the gang's bloody saga came to an end.
In 1996, a marker to memorialize Trooper Wheeler. 26, and Trooper Murphy, 22, was placed on Dove Road near the site of the killings. Attending the ceremony was Doris Edwards, who had been married to Trooper Wheeler not quite two years. (Trooper Murphy was engaged; his fiancee wore her wedding outfit to his funeral.)
Mrs. Edwards said she appreciated the memorial because Bonnie and Clyde had become infamous yet their victims were often forgotten. "It's just stayed inside me and festered all this time – all the publicity on Bonnie and Clyde, glamorizing them," Mrs. Edwards told an Associated Press reporter. "I want the world to know what vicious killers and murderers they are."
A year earlier, 1933, Bonnie and Clyde had murdered Deputy Malcolm Davis in a shoot-out in Dallas. He was engaged to Florence McPherson of Grapevine, whose family had come to this area in 1893 from Alabama; they lived near what's now Park Boulevard and Dove Road. Deputy Davis is buried in Grapevine Cemetery. Miss McPherson, who died at age 100, never married. She is also buried in Grapevine Cemetery.
(The park next to the Hilton Hotel in Southlake is named McPherson Park for the family. Members of the family once owned the land where Town Square is.)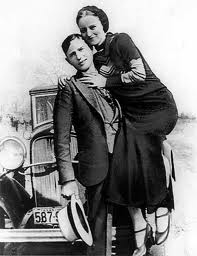 Jack Cook recalls that fateful day
Southlake resident Jack Cook, born in 1917 in the Dove community, was a teenager when he nearly encountered Bonnie and Clyde on Easter Sunday, 1934.
In an oral history he gave the Southlake Historical Society, Mr. Cook describes the scene:
"We'd left church, and Hubert [Long] wanted to go somewheres up towards Roanoke. And we passed by Dove Road and there was a car [a black Ford] up there. And the car looked like Mamie Cook's. Mamie Cook had two daughters and she used to take them around to meet their boyfriends. But it was exactly the same car. Then we decided it wasn't them. We tried to get Hubert to go up there and see who they were. He wouldn't do it; he just kept on going.
"We wasn't gone 30 minutes and when we came back, there was that big crowd of people there. Went up there and there was a great big blood spot right there on the road and they'd already come and picked up them [troopers' bodies]. We'd just missed them a little bit. And someone said too bad, good thing that Hubert didn't want to go up there, and I said I was satisfied that they wouldn't have bothered us because they wasn't afraid of us. They would probably had been friendly with us."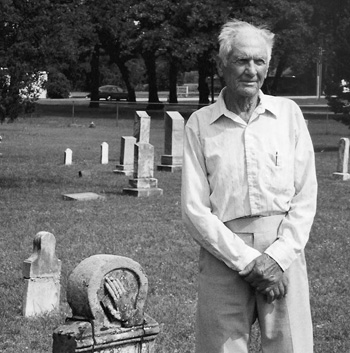 Memorial to Edward Bryan Wheeler and H.D. Murphy
Location: West on Texas 114 to Dove Road; turn east at the stop sign. The marker is about 1/10 mile on the right.
The monument reads:
We the people of the state of Texas acknowledge and thank Troopers Edward Bryan Wheeler and H.D. Murphy for the great sacrifice they made to keep the public safe. Troopers Wheeler and Murphy were shot to death Easter Sunday, April 1, 1934, near this site on West Dove Road by the infamous criminals, Bonnie Parker and Clyde Barrow. Wheeler and Murphy stopped their motorcycles near Parker and Barrow's car, thinking a motorist needed assistance. When they approached, they were shot. Their efforts will stand the test of time. May God bless their souls.
The Southlake Historical Society received a call in March 2015 from PBS' American Experience, which was putting together a program about Bonnie and Clyde. We provided photographs and info about the murder of the troopers. View the show through the American Experience archives.