Pre 1840
Prior to 1836 – Native Americans live and hunt in the thick forests of blackjack and post oak called the Eastern Cross Timbers, which extend in a dagger shape from southeastern Kansas through Oklahoma into central Texas. Early tribes in the area are thought to include Tonkawas and the Hasinai Caddos. By the late 1700s the Comanches, Kiowas and Wichitas had moved into the region.
1540-1542 – In search of the fabled Seven Cities of Cibola, Francisco Vasquez de Coronado leads an expedition across northern Texas.
1830 – Mexico forbids further immigration into Texas by settlers from the United States.
1836 – Texians win their independence from Mexico and form the Republic of Texas.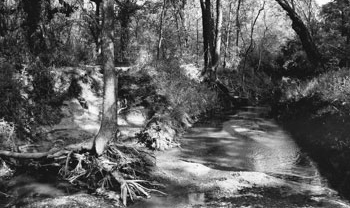 1840–1860
1841 – W.S. Peters of Louisville, Ky., and 19 associates contract to bring 600 families into the area.
Gen. Edward H. Tarrant orders the construction and garrisoning of a fort to protect the extreme northwest corner of the Texas frontier. Bird's Fort becomes the site of Birdville, now part of northeast Fort Worth.
1843 – Republic of Texas President Sam Houston camps at Grapevine Springs (near Coppell) during treaty negotiations with various groups of Native Americans. The treaty, intended to bring "peace, friendship and commerce" to the area, was later signed at Bird's Fort. A demarcation boundary established by the treaty keeps many Native Americans to the west of now-Southlake. Working as an interpreter was Jesse Chisholm, for whom the Chisholm Trail is named. (Note: The original Chisholm Trail began at the Red River and went north. It did not extend into Texas.)
1844 – Missouri colonists begin arriving in what's now the Southlake-Grapevine-Roanoke area.
1845 – On Dec. 29, Texas becomes the 28th state in the United States.
1846 – Lonesome Dove Baptist Church is established in February on the same weekend the Republic of Texas flag is lowered at the Capitol in Austin and the state of Texas flag is raised during the formal transfer of government.
1850 – Tarrant County is organized, and an election is held.
1859 – Mount Gilead Baptist Church, a sister church of Lonesome Dove, is burned by a raiding band of Indians. Mount Gilead is in present-day Keller.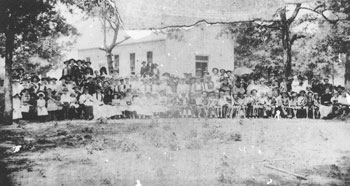 1860–1900
1861 – Texas secedes from the United States. Gov. Sam Houston opposes secession.
1866 – The abundance of longhorn cattle in southern Texas and the return of Confederate soldiers to a poor Reconstruction-era economy mark the beginning of the era of Texas trail drives to northern markets. Trails running through North Texas include the Eastern, McCoy and Shawnee; the closest trail to now-Southlake follows the approximate route of today's I35W.
1870 – Texas is readmitted to the Union.
1871 – White's Chapel Methodist Church is founded.
1875 – Conflicts in Texas with Native Americans come to an end.
1888 – Robert E. Wilson, the founder of the Jellico community, opens a general store near the intersection of present-day Davis Boulevard and Southlake Boulevard.
1889 – The Dallas, Pacific & Southeastern Railway Co. lays out a roadbed for a railroad from Letot, Texas, to Albuquerque, but stops at the Jack County line. The roadbed passes northwest of Grapevine generally along what would later become Highway 114.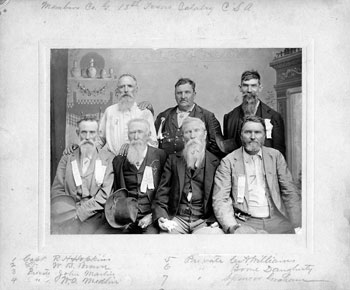 1900–1920
1901 – "Black gold" is discovered at the Spindletop oil field near Beaumont.
1902 – Mount Carmel Baptist Church is built by the Bob Jones family.
1917 – Local school districts of Dove, White's Chapel, Union (formerly Easter) and Sams combine to become Common School District No. 99. By 1919, No. 99 is named for B. Carroll, county superintendent of instruction.
1919 – The men in district No. 99, then a poor, rural area west of Grapevine, vote to increase their taxes to build a school. Three-room Carroll School opens in the fall next to a wagon road renamed Carroll. It accepts only white students.
1920 – The roadbed of Keller-Grapevine Road (now Southlake Boulevard) receives a gravel topping.
Bob Jones builds Walnut Grove School near the Denton/Tarrant county line for his grandchildren and other Black children. It is part of the Common School District system for "colored" students.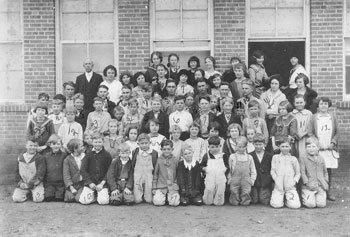 1920–1940
1929 – Construction of Highway 114 begins along a roadbed purchased from a bankrupt railroad. Construction is completed in 1932.
1934 – Bonnie and Clyde, or a member of their gang, kill two state troopers near Dove Road and Highway 114.
1940–1970
1948 – Construction of Lake Grapevine begins. It takes four years to complete the project and costs about $11.8 million.
1956 – Southlake is incorporated on Sept. 22 by a vote of 30-24. The town measures 1.62 square miles and has an estimated population of 200. The first mayor is A. Gail Eubanks; his daughter Suzanne suggests the name Southlake (see "Did You Know" on the homepage). Five aldermen and a town marshal also serve. Businesses include the Mesco Metal Buildings Co., Casey's Grocery, Board's Store, Bailey's Grocery, Couch's Grocery, a few egg and hog farms, and a cotton gin. The incorporation vote is held at the 1919 Carroll School, which serves for a while as City Hall.
1957 – Southlake becomes a General Law Municipality.
1959 – Carroll upgrades to an Independent School District. Grades are 1-8. For high school, students go to Grapevine. Jack D. Johnson, who had been school principal, was named superintendent, a job he holds for 30 years.
1964 – Southlake Post Office opens with Lavon Baird as the first postmistress.
The Southlake Planning Board is formed. City Hall opens inside Casey's Grocery on Highway 114 at Carroll Avenue. The city begins discussions on providing residents with water. Citizens currently rely on well water and septic tanks.
1965 – Town of Southlake becomes the City of Southlake. The first city bond election, to approve a plan to provide city water, is held.
Carroll ISD is fully accredited for grades 1-12.
1966 – The Southlake Fire Department is established as an all-volunteer force. The first fire engine, a 1,000-gallon truck, is purchased from Carswell Air Force Base.
The Southlake Police Department is established. The town marshal is renamed the chief of police. (Read about the early days of the police and fire departments by clicking the People tab.)
Southlake's population is 1,250.
1967 – Lone Star Gas agrees to provide gas service to city residents.
The city's first library is established, inside the 1919 Carroll School.
The City Council approves a 1.5-cent ad valorem tax on each $100 of assessed value of taxable property.
The first patrol car is purchased.
1968 – The first comprehensive land use plan is developed in conjunction with Fort Worth-based Carter & Burgess, Engineers.
Groundbreaking is held for the Dallas/Fort Worth Regional Airport.
1970 – Carroll High School opens at Dove Road and Carroll Avenue. (It later becomes Carroll Middle School and the CISD Administration Building.)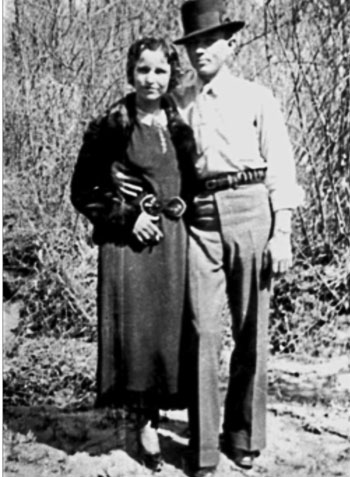 1970–1990
1972 – Southlake renames major streets.
A junior fire department made up of 16- to 18-year-old boys from Carroll High School is organized to assist the regular volunteer fire department.
1974 – The first major housing development is brought before City Council for approval.
Dallas/Fort Worth Regional Airport opens.
1975 – Southlake Parks and Recreation Board established.
1976 – Bicentennial Park is dedicated.
Comprehensive city zoning is recommended by Carter & Burgess, Engineers. City initiates zoning changes.
1980 – Southlake's population is 2,800.
1986 – A 1.5-million-gallon water tower is installed at Dove Road and North White's Chapel Boulevard. It becomes a prototype for about 80 percent of the large water towers built in the U.S.
Dallas/Fort Worth Regional Airport becomes Dallas/Fort Worth International Airport.
1987 – Southlake's population reaches 5,000. Residents approve and city adopts Home Rule Charter.
1988 – City changes minimum lot size to one acre, allowing Planned Unit Developments (PUDs).
City annexes unincorporated areas at the rate of 10 percent per year.
1990 – City hires first professional city planner.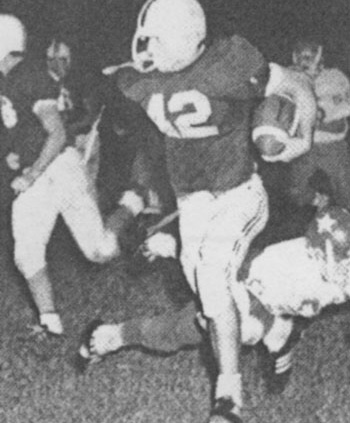 1990–Today
1991 – City adopts first Parks, Recreation and Open Space Master Plan.
1993 – Southlake's population climbs to 10,000.
1994 – State legislature allows cities to put a half-cent sales tax dedication to city parks. Southlake Parks Development Corporation (SPDC) begins.
1996 – Monument to State Troopers E.B. Wheeler and H.D. Murphy, murdered by Bonnie and Clyde of a member of their gang, is dedicated.
Southlake celebrates its 40th birthday.
1997 – Groundbreaking ceremony is held for Southlake Town Square.
Southlake Historical Society disassembles the log cabin near today's Central Market and stores it, planning to reconstruct it when possible. The structure is thought to date from the mid-1860s and was occupied into the 1940s.
1998 – Southlake population is 20,000.
1999 – The first phase of Town Square opens.
2001 – Voters approve the local option election to allow wine sales in grocery stores, 3,007 in favor and 129 opposed.
The city library opens in Town Hall.
2002 – Southlake DPS opens its West Facility.
2004 – A grand-opening celebration is held for Highway 114; the 12-lane, grade-separated freeway took three years to construct.
2005 – Carroll Dragon football team wins sixth state title.
2006 – Southlake celebrates its 50th birthday.
2008 – Bob Jones Nature Center and Preserve, located partly on land owned by Bob Jones, opens in north Southlake.
Southlake's log house, made of logs cut and hewn about the time Abraham Lincoln was president, is built in Bicentennial Park, just off of White's Chapel Boulevard. The site is the former Blossom Prairie, where in the mid-1800s wagon trains filled with settlers, gold-seekers and others would spend the night on their journey west.
2010 – The Department of Public Safety headquarters building on Carroll Avenue is dedicated.
2011 – Phase 1 of improvements at Bicentennial Park is completed.
Walnut Grove Elementary, named after the school Bob Jones built in 1920 for his grandchildren because they could not attend schools for whites only, opens on North White Chapel Boulevard.
2012 – North Park, on East Dove Road, opens as Southlake's third community park.
2013 – Southlake Sister Cities sponsors its first student trip to Suzhou, Wuzhong, China.
Carroll ISD adds resource officers at all schools.
2014 – DPS North Training Facility opens.
2015 – Bicentennial Park Phase 2, including the Texas Rangers Miracle League Field, is completed.
The Marq Southlake, a community, recreation and senior center, opens its first phase.
Southlake's first female mayor, Laura Hill, is elected.
2016 – Southlake celebrates its 60th birthday.
Southlake Historical Society goes on Instagram at #southlaketxhistory
Ground is broken on Bicentennial Park Phase 3 improvements, which include a Southlake Tennis Center and the Champions Club at The Marq Southlake. Champions Club will be a recreation and fitness center.
2017 – The city's first two-lane roundabout opens. It's at Peytonville, Dove and Sams School roads.
The first Celebrate Southlake event is held to celebrate the history and culture of Southlake. The event follows the rededication of Frank Cornish IV Park.
2018 – Riley Dodge, a quarterback for Southlake Carroll from 2004-2007, returns as head football coach. He played on three state championship teams at Carroll.
2019 – Champions Club opens at The Marq.
2021 – Dr. Lane Ledbetter, a Carroll grad and son of storied Carroll football coach Bob Ledbetter, begins work as superintendent of Carroll ISD.
An award-winning exhibit about Bob and Almeady Chisum Jones is installed at the headquarters of the Bob Jones Nature Center and Preserve.
A sculpture of Bob and Almeady Chisum Jones commissioned by the Southlake Arts League is placed next to the playground in Bob Jones Park.