The 10 historical markers in Southlake tell fascinating stories about significant places. Michael Patterson of Colleyville and E.I. "Jack" Wiesman of Southlake researched and applied for many of these markers. The marker text is given below; an asterisk means it's a Texas Historical Commission marker.
Carroll School*
Dove School began nearby in 1847 as one of the earliest schools in Tarrant County. White's Chapel, Sams and Easter (later Union) served the area in the late 1800s. In 1917, Tarrant County Commissioners combined the schools to form Common School District No. 99, later named for county superintendent of public instruction B.E. Carroll. Students continued to attend one-room schools across the district.
In May 1919, residents of the district petitioned the Commissioners Court to hold a property tax election for $7,500 in construction bonds for a centrally located school. In June voters cast their ballots at White's Chapel Methodist Church; the vote was 29 for and 25 against. E.E. Higgins, J.R. Shivers and B.F. Griffin, the first school trustees, paid $500 for a five acre hilltop parcel, and Frank Estill built a three-room, one-story brick schoolhouse. The school opened with three teachers to instruct 97 students in nine grades.
A wood-framed classroom for lower grades and a lunchroom were built behind the school. A teacherage stood nearby. About 1950, the schoolhouse expanded with three additional rooms. In 1956, Carroll school became the birthplace of Southlake as the polling place where residents voted to incorporate. For several years the school also served as town hall. In 1959, voters created Carroll Independent School District. Carroll School remained an elementary school until 1970 before becoming classrooms and office space until closing in 2001. Carroll School, the first public building in this once-rural settlement, embodies the traditions and humble beginnings of a growing public school district and city. (2010)
Location: On Carroll Avenue about a quarter-mile north of Texas 114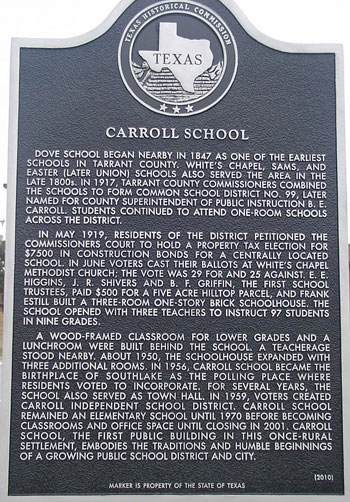 Dove Community *
The 1843 Bird's Fort Treaty between the Republic of Texas and several Native American tribes opened this area for new immigrants. In the ensuing years about 35 related families arrived from Platte County, Missouri, and settlers from other parts of the United States migrated to this area to claim land offered by the Peters Colony. They settled along Denton Creek south near present-day Grapevine, and west near what is now Roanoke. In February of 1846, area residents organized the Lonesome Dove Baptist Church. In 1847, members built a long log structure approximately four miles northwest of Grapevine in the Eastern Cross Timbers. The Lonesome Dove School also began about that time, and the Rev. John Allen Freeman served as schoolteacher as well as church pastor for ten years.
In 1849, the state legislature created Tarrant County, with Birdville as county seat, and the U.S. Army established Fort Worth as a frontier fort. The small village of Dove developed by the 1870s. A general store and post office operated at the intersection of Dove and Lonesome Dove roads, and the community became a farming center for cotton, melon and dairy production. Included as part of the community were Lonesome Dove Cemetery just north of the church site, the Dove Branch swimming hole, used for recreation as well as baptisms, and Dove School, which was closed in 1919 when Carroll School was built in the newly-named Carroll Common School District.
The federal government completed Lake Grapevine in 1952, requiring a number of families to relocate from the northern portion of the Dove Community. In 1979, the city of Southlake annexed Dove, but evidence of the early area community remains. (2005 and 2011)
Location: In front of Lonesome Dove Baptist Church. It originally was at the intersection of Dove and Lonesome Dove roads, but it was twice crushed by trucks. When the sign was redone, newly uncovered information was added.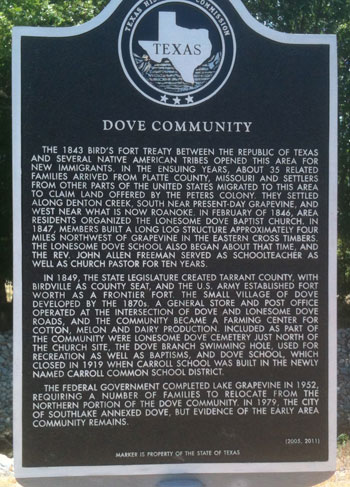 White's Chapel Cemetery*
According to local legend, this cemetery began about 1851, when a child traveling through this area in a wagon train died and was buried here. The oldest documented burial, that of infant Amy A. Marr, took place in 1872. Many graves in the pioneer cemetery are unmarked, or are marked only with fieldstones. Native red sandstone is used for many of the markers and curbing. Among those laid to rest here are former state legislator Elihu Newton (1845-1925), who served in the 20th and 23rd Texas legislatures, and veterans of the Civil War and other armed conflicts. A reminder of the once-rural, pioneer heritage of this part of Tarrant County, the cemetery is cared for by the White's Chapel Cemetery Association. (2001)
Location: Corner of White's Chapel Boulevard and Southlake Boulevard (FM 1709)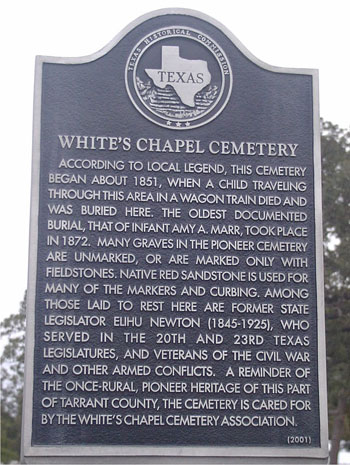 State Troopers Edward Wheeler and H.D. Murphy
Memorial to State Troopers Wheeler and Murphy
We the people of the state of Texas acknowledge and thank Troopers Edward Bryan Wheeler and H.D. Murphy for the great sacrifice they made to keep the public safe. Troopers Wheeler and Murphy were shot to death Easter Sunday, April 1, 1934, near this site on West Dove Road by the infamous criminals, Bonnie Parker and Clyde Barrow. Wheeler and Murphy stopped their motorcycles near Parker and Barrow's car, thinking a motorist needed assistance. When they approached, they were shot. Their efforts will stand the test of time. May God bless their souls. Erected 1996
Location: On the south side of Dove Road, just east of Texas 114 frontage road
Additional information: The wreath was donated in April 2004 by the J.E. Foust Funeral Home in Grapevine, where the officers were taken. April 2004 marked the 70th anniversary of the killings.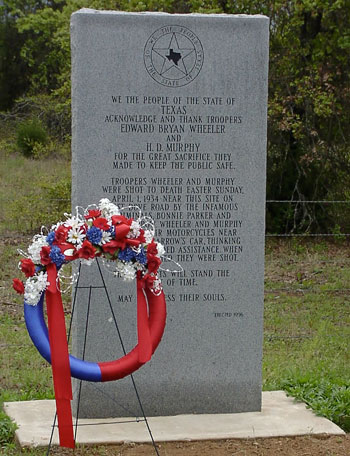 Jellico Community*
Robert Emmett Wilson came with his family to this area during the 1880s and built a general store near this site. The name Jellico was chosen for the community when a post office was established in 1898. The town was named after a town in Tennessee from which some of the settlers had immigrated. By 1895, Jellico had a cotton gin, blacksmith shop, grist mill, syrup press, and school. The town began to decline when cotton prices fell in 1907. Wilson's general store closed in 1912, and the school was consolidated into another district in 1917. (1985)
Location: Intersection of West Southlake Boulevard (FM 1709), Davis Boulevard and Randol Mill Road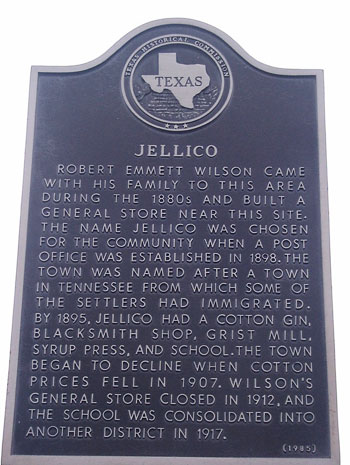 Thomas Easter Cemetery*
Virginia native Thomas Easter, born about 1823, migrated to Texas and settled in Tarrant County by 1848. Easter patented a 630-acre tract of land in the northeast corner of the county. A portion of this land was used as a cemetery upon his death in 1862. His wife Charity Easter, born about 1820, was buried here in the early 1880s. Another known burial is that of early settler Hardin West (b. 1809), who died on March 10, 1881. The cemetery contains several unmarked graves. The Easter Schoolhouse stood beside the burial ground during the 19th century. (1983)
Location: East Southlake Boulevard near Commerce Street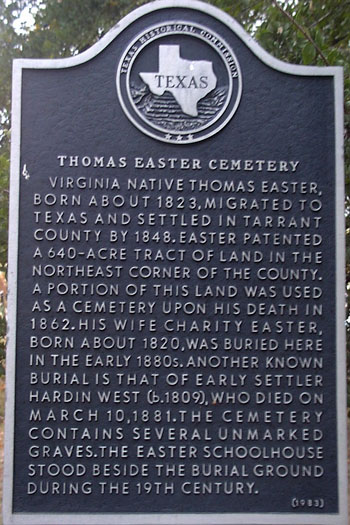 Hood Cemetery*
This cemetery was established on the farm of Peters Colonist Thomas H. Hood (ca. 1823-1859), who came to Texas from Missouri about 1845. The earliest marked grave is that of Urias Martin (1795-1855). Among the unmarked graves are those of Hood and his second wife, Maryetta (Hall). Other Peters Colonists and several confederate veterans are buried here. In 1871 Thomas Hood's family formally set aside the one-acre cemetery tract. Handmade native sandstone markers and burial cairns reflect the lifestyle and resourcefulness of early North Texas pioneers. (1982)
Location: On Coventry Lane east of North Peytonville Avenue in the Coventry Manor subdivision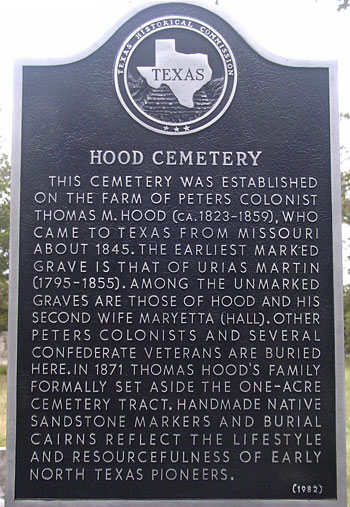 Absalom H. Chivers Cemetery*
This cemetery was established for the family of Absalom H. Chivers, a prosperous farmer and stockman who came here from Mississippi about 1852. With the help of his five slaves, he operated a farm along Dove Creek until his death in 1856. Chivers' grave is thought to be the first in this burial ground, located on his original homestead. The land was set aside as a family cemetery in 1889 by his widow Eleanor (Joyce) Chivers (1816-1896), whose grave is believed to be the last placed here. Native sandstone cairns reflect some of the pioneer burial customs. (1982)
Location: North of East Highland Avenue adjacent the service road of Texas 114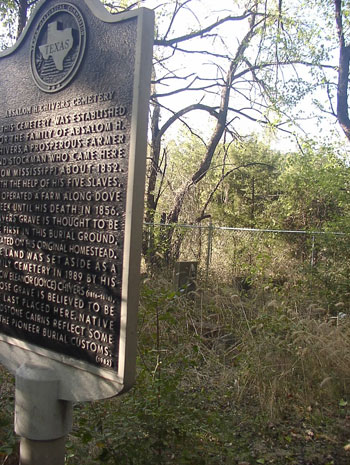 White's Chapel Methodist Church*
Founded by settlers who came by wagon train from Dade County, Georgia, in 1871. Early services were in the home of S.B. Austin, the leader. Austin gave land for a cemetery and church. A log meetinghouse was built and in use in February 1872. This was the first Methodist church in this vicinity. Circuit rider preachers drew crowds here from as far away as 20 miles. At first called "Oak Hill," the home church in Georgia, this was soon renamed for a permanent pastor, the Rev. Mr. White. The community school was held in successive church buildings until 1916. Many settlers rest in the nearby cemetery. (1971)
Location: White's Chapel Blvd at Southlake Boulevard (FM 1709)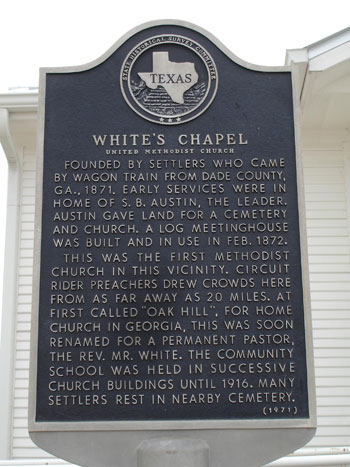 Lonesome Dove Baptist Church and Cemetery
Minutes preserved 1846-1968.
Organized Feb. 1846 in Charles & Lucinda Throop home 3 mi. East by 12 Baptists; joined the next day by 11 Baptists. Eld. J. Hodge, Deacon James Gibson formed the presbytery. 1st building at this site 1847. When Elected Eld. John Freeman, who had served as teacher & part time preacher since 1846, served as permanent pastor 1847-1857. In adjoining cemetery rest many Tarrant County pioneers, several among 1st elected officials when it was organized in 1850.
Constituents
Hall Medlin, clerk
John Freeman, Moderator
Nancy (Harris) Freeman
Mary (Medlin) Anderson
Susanah (Medlin) Foster
Lucinda (Foster) Throop
Mary Ann (Foster) Leonard
Felix Mullikan
Rachel (Foster) Mullikan
Henry Suggs
Saleta (Foster) Suggs
Henry Atkinson
(1968)
Location: 2380 Lonesome Dove Road, north of Dove Road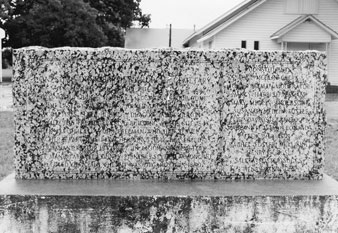 Markers of interest that are located outside of Southlake:
Torian Log Cabin*
This cabin of hand-hewn logs was built along a creek at the edge of the Cross Timbers near the pioneer community of Dove. It originally stood on a headright settled in 1845 by Francis Throop, a Peters colonist from Missouri. J.C.Wiley bought the property in 1868. He sold it in 1886 to John R. Torian (1836-1909), a farmer from Kentucky. Torian family members occupied the structure until the 1940s. The cabin was moved about four miles to this site in 1976. (1978)
Location: 205 Main St. in Grapevine
Site of Bird's Fort (One Mile East)*
In an effort to attract settlers to the region and to provide protection from Indian raids, Gen. Edward H. Tarrant of the Republic of Texas authorized Jonathan Bird to establish a settlement and military post in the area. Bird's Fort, built near a crescent-shaped lake one mile east in 1841, was the first attempt at Anglo-American colonization in present Tarrant County. The settlers, from the Red River area, suffered from hunger and Indian problems and soon returned home or joined other settlements. In August 1843, troops of the Jacob Snively expedition disbanded at the abandoned fort, which consisted of a few log structures. Organized to capture Mexican gold wagons on the Santa Fe Trail in retaliation for raids of San Antonio, the outfit had been disarmed by United States forces. About the same time, negotiations began at the fort between Republic of Texas officials Gen. Tarrant and Gen. George W. Terrell and the leaders of nine Indian tribes. The meetings ended on September 29, 1843, with the signing of the Bird's Fort Treaty. Terms of the agreement called for an end to existing conflicts and the establishment of a line separating Indian lands from territory open for colonization. (1980)
Location: West of FM 157, inside Arlington's River Legacy Park
Grapevine Springs Park*
The Grapevine Springs, which flow into the Elm Fork of the Trinity River, have attracted visitors for more than 2,000 years. In 1843, Republic of Texas President Sam Houston camped here during treaty negotiations with native Americans. The treaty was later signed at Bird's Fort. In 1936, Dallas County accepted the donation of Houston's campsite as park land, and the Federal Works Progress Administration (WPA) built rock walls, picnic facilities, foot-bridges and other features. During World War II, ownership reverted to prior owners. The Baptist Foundation of Texas later obtained the land and donated it to the county in 1991. Today, the city of Coppell maintains it, and efforts to restore WPA features are ongoing.
Location: 700 Park St. in Coppell
Quanah Parker*
Comanche chief Quanah Parker was a son of two cultures. He was born about 1845 along Elk Creek, Indian Territory (Oklahoma). His Anglo mother was Cynthia Ann Parker, taken captive in a May 1836 raid and adopted by Qua-Ha-Di (Antelope) Comanches, and his father was Comanche chief Peta Nocona. Texas Rangers reclaimed Cynthia Ann in an 1860 fight at the Pease River. Nocona died soon after, and Cynthia Ann lived with relatives near Birdville in Tarrant County before dying with no further contact with her Comanche family.
Becoming chief upon his father's death, Quanah refused to sign the 1867 Medicine Lodge Treaty that sent many Plains Indians to reservations. Instead, he led raids in Texas and Mexico for another seven years, likely including the last foray into Tarrant County in June 1871. That winter, Quanah's band eluded Col. Ranald Mackenzie's Fourth U.S. Cavalry across the Texas panhandle. Comanche losses during the 1874 Panhandle Battle of Adobe Walls, in which Quanah was wounded, followed by a harsh winter, finally brought him and fewer than 100 remaining Qua-Ha-Di to the reservation at Fort Sill, Indian Territory in May 1875.
Quanah served as liaison between his people and the Bureau of Indian Affairs. He proved to be a pragmatic leader, encouraging the Comanches to take up ranching and farming, and to educate their children in government schools. Quanah prospered through his investments and built his spacious "Star House" near Cache, OK. He traveled widely, giving speeches and interviews and participating in wild west shows, the Texas State Fair, Texas Cattle Raisers Association gatherings and the Fort Worth Fat Stock Show. Quanah visited Fort Worth and the Stockyards on many occasions. He died in 1911 and is buried at Fort Sill. (2007)
Location: 131 E. Exchange St. in Fort Worth