Thanks for visiting our website, our "museum" filled with stories about Southlake's past.
Living in Southlake is a much richer experience when you know its past. We hope you discover a sense of place right here!
Click on our Magical History Tour for a quick look at our town's history.
You'll want to look through the more than 300 photos in the Photo & Video Gallery.
In Buildings & Markers, learn about the 1919 Carroll School, where Carroll ISD and the City of Southlake were born.
And take a moment to shop! Click on our General Store for books, notecards and one-of-a-kind holiday ornaments.
Thanks for stopping by!
Cordially,
Connie Cooley, President
P. S.
You can always reach us at boardmember@
SouthlakeHistory.com.
Whether you're an old-timer or a newcomer, you are always welcome to join us at our society business meetings held at 6:30 p.m. on the second Monday of each month in 3rd-floor meeting room A in Town Hall.
2017-2018 Board Members:
Connie Cooley, President
Tamara McMillan, Vice-President, Director of Programs
Claire Johnson, Secretary
Terri McAndrew, Treasurer
Emily Galpin, Director of Membership
Rebecca Utley, Director of Development
Anita Robeson, Historian/Archivist

Southlake's log house is dressed up for Thanksgiving.
Stop by and take some family photos. Check out the signs that surround the house to learn more our area's early settlers.
A big 'thank you' to everyone who attended our 4th annual
Ghosts of Southlake Past Cemetery Tour
Firefighter Ted McPherson began the event playing "Amazing Grace" on the bagpipes.


SHS board member Claire Johnson, the evening's cemetery tour guide, spoke passionately about the history of Lonesome Dove Cemetery -- one of Tarrant County's oldest -- and the many pioneers buried there.
UNT student (and Carroll grad) Paul Porter described the horrors Pvt. James Eli Torian faced while serving in France during The Great War. He lost his life in battle. In 1921, his remains were returned for burial at Lonesome Dove.
Carroll Sr. High students Emma Close and Sarah Lacy portrayed sisters Missie and Mattie Lowe, who were born in now-Southlake in the late 1880s. Their father, Jim Lowe, settled here "because of the large trees ... to build his cabin and for the deer that he could shoot from his front porch." In 1949, Mattie Lowe walked door to door to collect the stories of area pioneers. Her handwritten manuscript is in the Heritage Room of Tarrant County College.

"Miss" Elizabeth Beamon told the story of Leona Torian Tanner, whose family cabin was built in the 1840s or 1850s near what's now Lonesome Dove and Dove roads in Southlake. In 1976, Leona Tanner donated the structure to the City of Grapevine, where it's now the famous log cabin on Main Street!
City Councilman John Huffman told the story of Woodmen of the World member Sovereign (Treasurer)Jasper Martin. WOW was a fraternal organization that helped with members' burial expenses. The distinctive WOW tree-trunk headstones, such as Jasper Martin's, were intricately carved to symbolize the life of a member "cut short."
City Librarian Cynthia Pfledderer portrayed Malinda Dwight Hill, who fled the Comanche raid on Fort Parker in 1836, a raid made famous by the capture of 9-year-old Cynthia Ann Parker. Ms. Pfledderer made real the frightening six-day walk survivors took to reach safety. When Malinda Hill died years later, her son made a headstone for her that features carvings of the Holy Land,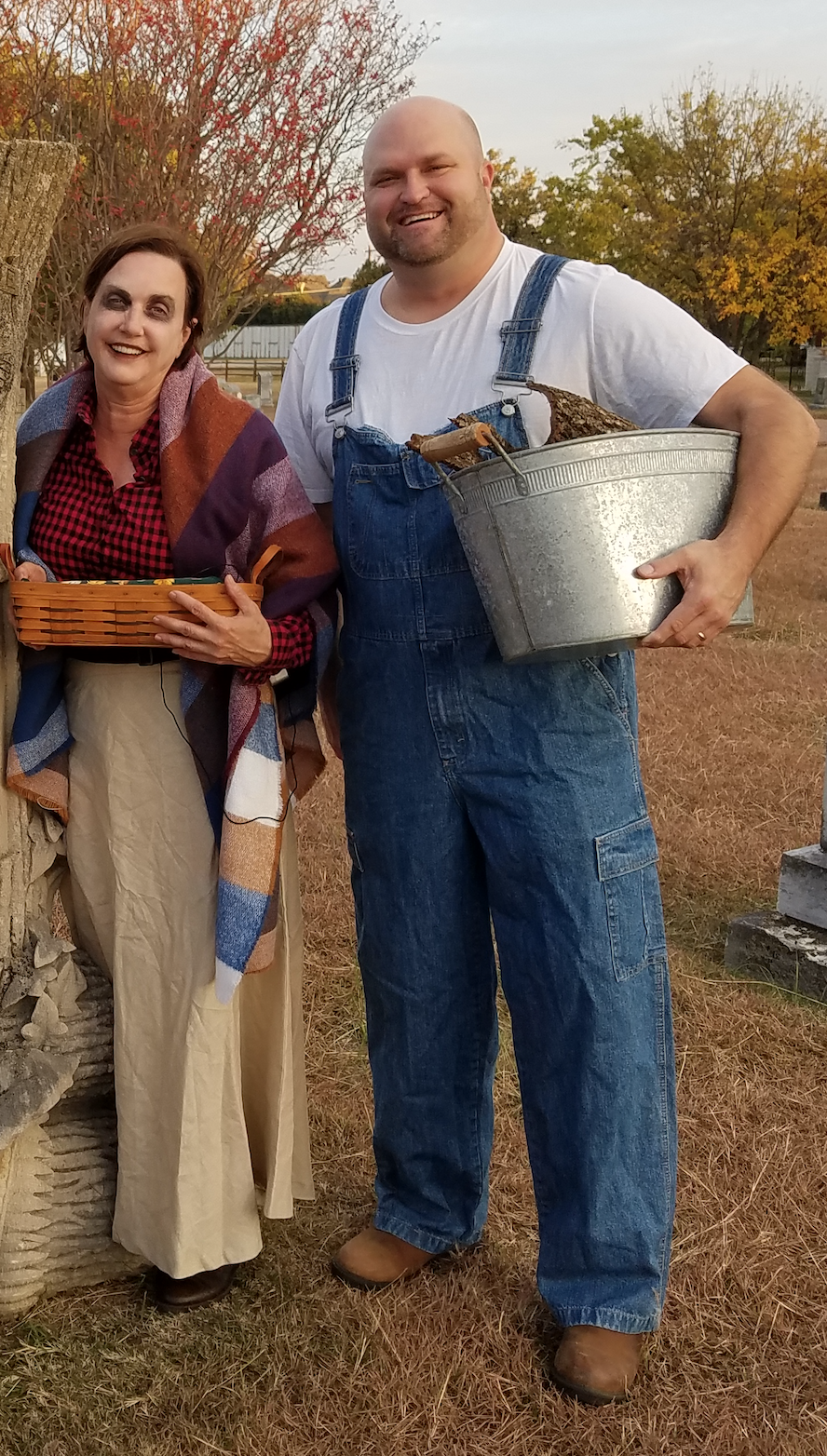 Mayor Laura Hill and Councilman Randy Williamson shared the lives of husband and wife Jarret and Malinda (Eads) Foster. Their families were Missouri Colonists -- white settlers from Platte County, Mo., who arrived in North Texas from 1844-1846 and settled the area, including now-Southlake. Jarret Foster died in 1913, the last of the original Missouri Colonists.
The Southlake Historical Society wishes to thank our re-enactors and event volunteers for their tireless work in making this year's cemetery tour the best tour yet!
Learn more about early Southlake history by clicking on the topics at the top of this page. Also, visit the Southlake Public Library and its local-history section, next to the magazines. Start with the authoritative "Grapevine Area History," edited by Charles Young. It provides a comprehensive study of the area and the men and women who settled it.
Don't let Southlake history fade away. Donations are always appreciated. We've made it easy for you: Just click on the button near the top of this page.
GREAT STOCKING STUFFER!
KNOW A DRAGON FAN? YOU GOTTA GET THIS BOOK!
and order a Dragon football book now.
Which Dragon football coach played for the Chicago Cardinals, Dallas Texans and Oakland Raiders?
Who said, "Hey Riley, I've never seen anyone throw up and then throw a touchdown pass." (Hint: He lived in a white house.)
Where can you see pictures of Dragon players since 1960 and recaps of games from the 1980s to now?
Find the answers in IMAGES OF SPORTS: SOUTHLAKE CARROLL DRAGON FOOTBALL by SHS president Connie Cooley.
Or
drop by the Southlake Library

to purchase a copy. We are grateful to the Southlake Library for its continued support.